Visit Us
Visit us in our wonderful renovated location!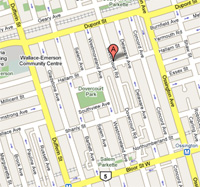 999 Dovercourt Road
Toronto, ON
M6H 2X7
Telephone: 416-588-8801
Fax: 416-588-8966
Email: csac@creativespirit.on.ca
Hours
Open for scheduled events. Contact us on the availability of studio space for your event or exhibition.
Closed for long weekends and statutory holidays.
Find us on the TTC:
The centre can be reached by the Northbound 161 bus from the Ossington subway station. This bus stops at Dovercourt Road and Hallam Street.
Northbound 63 bus from Ossington subway station is much more frequent a
nd stops at Hallam Street and Ossington. From here, walk three blocks west to Dovercourt Road.
Parking:
While there is no designated parking for the art centre, there is plenty of free street parking on Dovercourt Road and Hallam Street.
Learn how to become a member here.